click here to see the show schedule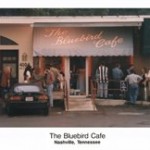 4104 Hillsboro Rd, Nashville, TN 37212 615-383-1461
You may have seen this world-famous songwriters venue featured on the ABC series "Nashville."  Many top acts, including Taylor Swift, Garth Brooks and Faith Hill, have done showcases there that led to their record deals. Some of the top songwriters in Nashville, are regular performers.
Barbara is an integral part of the Bluebird Cafe family. She has presided over the Open Mic since it began in 1986. For ten years she did the booking for all the early shows. These days you will find her there on Monday nights still presiding over the Open Mic as well as performing there regularly, helping judge the auditions, and of course, as an audience member soaking up some of the best songwriting in the world.
MONDAY NIGHT OPEN MIC, 6 PM to 8 PM This open mic has welcomed newcomers Kenny Chesney, David Wilcox, Dierks Bentley and Garth Brooks as they dropped by in their quest for success, and songwriters including Tim Johnson, Dave Turnbull. Chuck Cannon and Bret Jones who have grown from playing a couple songs for free to writing hit singles.  It's always an entertaining show as songwriters from all over the world gather to take their chance on the famous Bluebird Cafe stage. You never know just what you'll hear, but you can be sure you'll hear it all.
Open Mic Sign-up Procedure:  Sign-up is by phone and will start at 11 am each Monday for the show that night. The number to call is 615-943-8168. You will not be able to leave a message; you need to keep trying 'til you get through to someone who will put you on the list. There are limited spots and the list will fill up quickly. 
All writers who play that night will have a reserved seat and can reserve one additional seat if needed. They must be at the club and have checked in with the host by 5:15 pm. 
ADDITIONAL GUIDELINES: Songwriters of all genres are welcome. Each participating writer will get the chance to play 1-2 original songs, solo or accompanied by no more than two others on stage. Drums and backing tracks are not allowed. There is a full sized house Kawai digital piano that is available to use and a Taylor guitar with a pick-up, strap, capo and tuner..
SUNDAY WRITES NIGHT This is the longest running writers' night in Nashville and one of the best attended. The show consists of ten to twelve writers who play three songs each and it ends with a set by a writer who has enjoyed commercial success. There is no pay for the show but writers are welcome to sell CD's.
AUDITION PROCEDURE To play on a Sunday writers night you must first pass one of the live auditions. The only exception to the audition rule is made for touring artists who are performing professionally. They may, instead of the audition, send a press kit marked "writers nights" to The Bluebird Cafe, 4104 Hillsboro Rd., Nashville TN 37215 or email an on-line press kit to earlyshowbooking@bluebirdcafe.com . The auditions are held four times a year and are open only to writers who live within 100 miles of Nashville or members of a chapter of the Nashville Songwriters Association. They take place on a Sunday morning and each writer plays one minute of one song. Writers must register online in advance for the audition and only 65 writers are registered for each one.
To receive an email notice and complete instructions whenever it's time to register for an audition, join the mailing list and check the box for auditions
EARLY SHOWS – Tues – Friday, 6:00 to 7:45 PM These shows usually consist of three writers taking turns trading songs for 2 hours. Generally the rounds are put together by one writer who invites the others. There is a $5 cover that pays the soundman and is then divided between the performers.
BOOKING PROCEDURE To be considered for an early round, writers must begin by passing the audition for a Sunday writers night. Once they have played four Sundays they can ask to be considered for an early round. For the most part, writers must be able to assemble a three or four person round that will provide great music and will help fill the house. 
SUNDAY BAND SPOTLIGHT The only opening at The Bluebird for a full band that does not already have a large Nashville following is the Sunday Spotlight Show at 6:00 PM each week. Bands of up to six pieces play a one hour set.
BOOKING PROCEDURE Writers who would like to play on the spotlight show with their band must begin by passing the audition and playing four Sunday Writers Nights.
LATE SHOWS Mon thru Sat These shows are booked by the manager of the club, Erika Wollam-Nichols, erika@bluebirdcafe.com and they are reserved for multi-hit songwriters and touring acts with a large following.