Songwriter, Bluebird Cafe Host, Songwriter Teacher
Probably the most notable thing about Barbara Cloyd is how many songwriters she has helped over the years. She never set out to become one of Nashville's most successful and respected songwriting mentors, but whenever she sees talent she instinctively does whatever she can to nurture and promote it.
Her music career began at the age of three singing "Frosty the Snowman" with the Sunday school choir and she's been hooked ever since. After getting a degree in Theater from the University of Iowa, Barbara says, "Being an actress didn't seem like a secure career so I became a musician instead." She bought a four channel Peavy PA and spent a few years playing cover tunes in clubs in her hometown, St. Louis, Mo.
She realized that to have the kind of music career she wanted, she had to move to an industry center, and Nashville seemed like a better fit than New York or LA for a down-to-earth Midwestern girl with a love for songs that tell stories. In 1983 getting laid off from a day job gave her unemployment benefits that provided funding for the move. Barbara had never been to Nashville, didn't know anyone there, didn't have a job or a place to stay, but she sold everything that wouldn't fit in the car and made the five-hour drive. "Within a few days," she says, "I knew I had finally made it home."
Her work with other songwriters began when she was hired to launch the Monday Night Open Mic at The Bluebird Cafe, which even by its third year, had become the "it" place to play original music. From the start, the open mic became a stepping stone for a steady stream of hopefuls, including artists like Garth Brooks, Kenny Chesney and Dierks Bentley, as well as countless songwriters who went on to major chart success.
The Bluebird also hired Barbara to book early shows at the club, the time slot open those who have not yet built a following or had a string of hits. She was able to give valuable stage time to stand-outs like Brandy Clark, Eric Paslay Matt Ramsey and Trevor Jones of Old Dominion, David Wilcox, Gillian Welch and Iris Dement, plus a host of soon-to-be hit writers including Bret Jones, Jon Nite and Chuck Cannon.
During her early years at The Bluebird, Barbara worked as a waitress at a health food restaurant on Music Row. A cook at that restaurant had just moved from California so her husband Jon Robbin, could pursue a songwriting career and she invited Barbara over for dinner to introduce them. Says Barbara, "I didn't think his writing style would be compatible with mine, but they had just fed me dinner so when he asked me about co-writing, I was too polite to say no. I'm glad Mama taught me good manners because we ended up writing  'I Guess You Had to Be There.'" That song, regarded by many as a Country Classic, became a hit for Lorrie Morgan in 1993.
With her new status as a hit songwriter, other Nashville music clubs sought her services to host writers nights and more and more songwriters started asking her for feedback and advice. She discovered her passion for teaching and started a consultation service in 1998. Her years of experience on the front lines of the Nashville songwriting community have given her a keen understanding of what works and what doesn't, and her insights are a blessing to songwriters who seek her out for feedback on their songs and advice on how to navigate the music business.
One of her most sought after and respected endeavors is the "Play for Publishers" workshop series where songwriters play their originals for successful publishers looking to discover new talent. Many attendees have ended up with open doors on Music Row and all of them get valuable feedback that helps them take their writing to the next level. Alumni of the workshops include artists Dustin Lynch, Kelleigh Bannen and Jameson Rodgers and hit writers Adam James, Jon Nite, Joe Leathers and Brian Henningsen. Rebound Recording artist Drew Baldridge got his first publishing deal as a direct result of being heard at a workshop by the creative director of This Music.
Few things are more exciting to Barbara than discovering great talent and she always had en eye out for writers and artists she can help. She has become widely known on Music Row for her ability to spot exceptional talent and her introductions have opened doors that led to successful careers for quite a few, including Adam James, Bret Jones, Barry Dean, Marcel and Anthony Smith. Plus a few you just haven't heard of YET.
Read more about The Bluebird Cafe.
Listen to Barbara's CD's on
Reverb Nation
Listen to Barbara's demos on
Soundcloud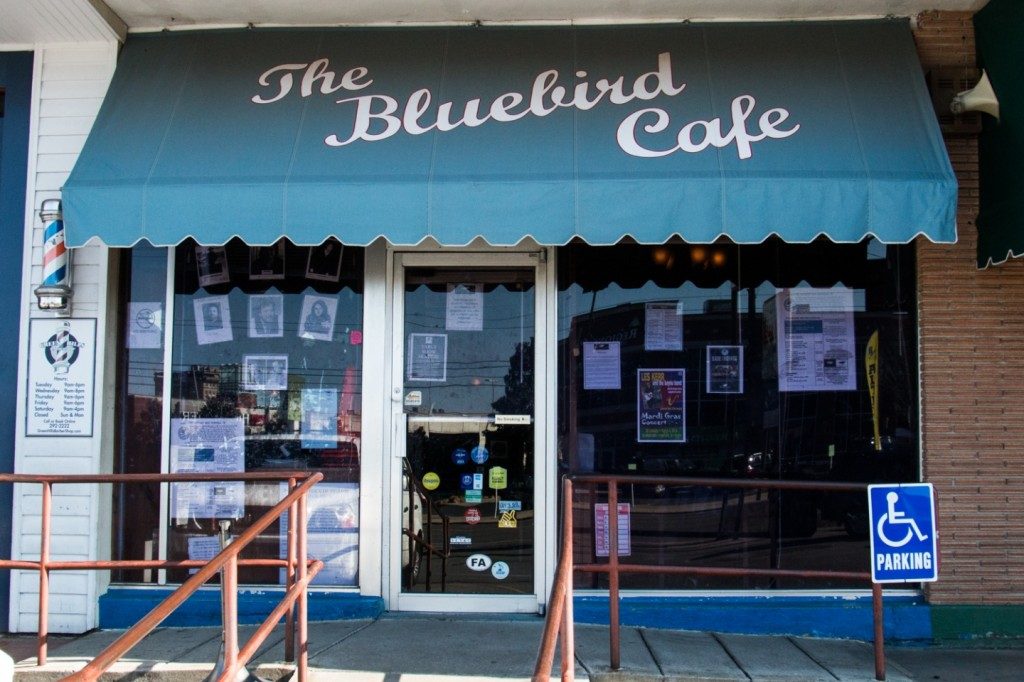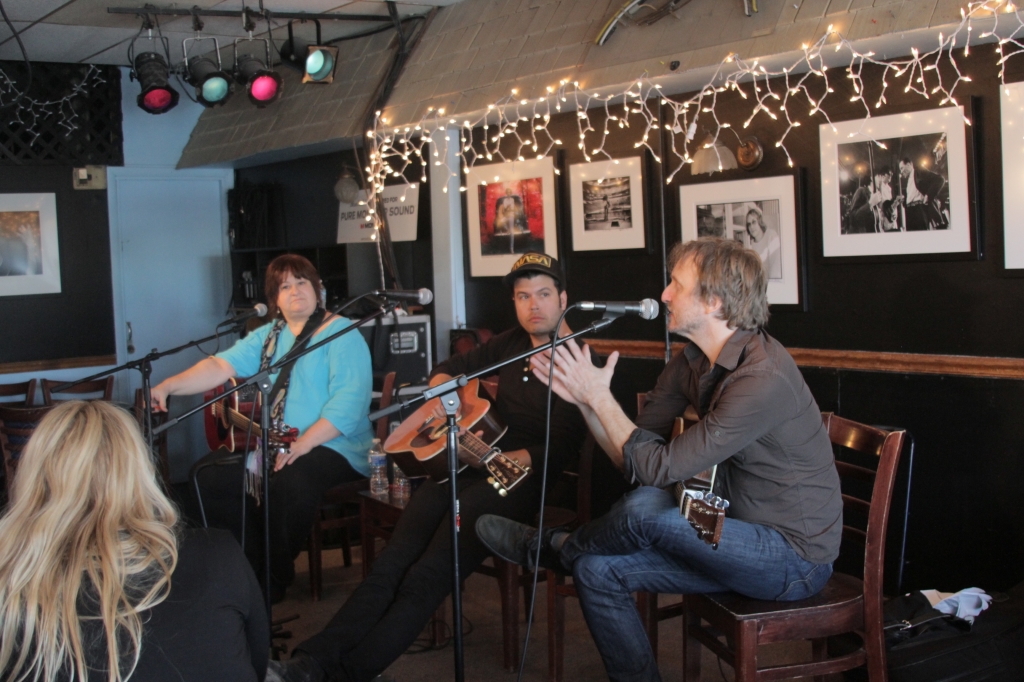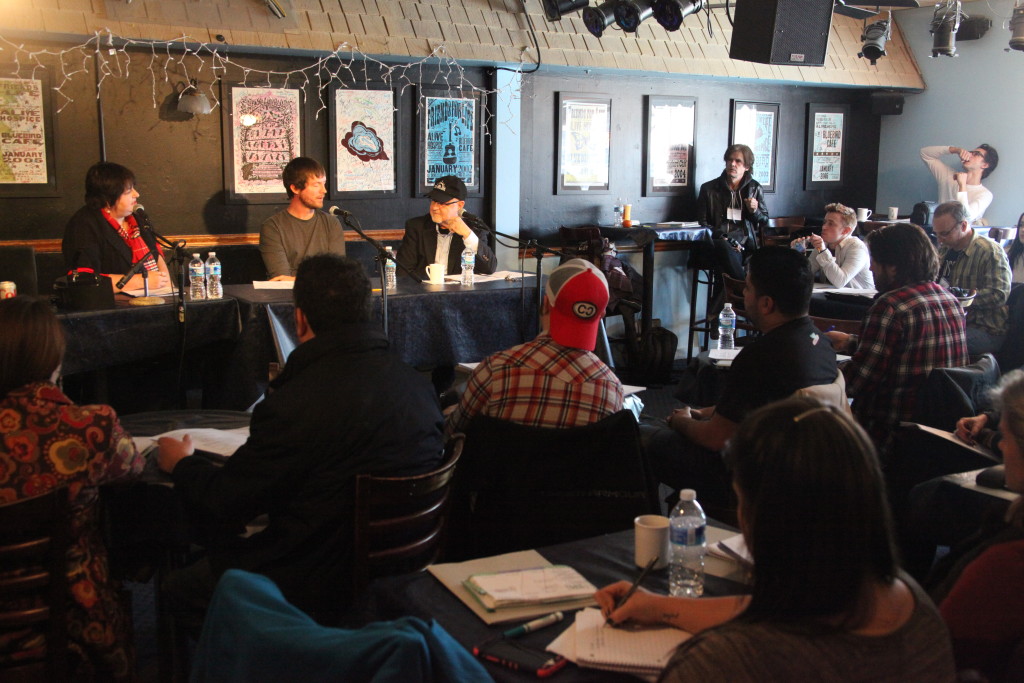 You may have seen this world-famous songwriters venue featured on the ABC series "Nashville."  Many top acts, including Taylor Swift, Garth Brooks and Faith Hill, have done showcases there that led to their record deals. Some of the top songwriters in Nashville, are regular performers.
Barbara is an integral part of the Bluebird Cafe family. She has presided over the Open Mic since it began in 1986. For ten years she did the booking for all the early shows. These days you will find her there on Monday nights still presiding over the Open Mic as well as performing there regularly, helping judge the auditions, and of course, as an audience member soaking up some of the best songwriting in the world.
MONDAY NIGHT OPEN MIC, 6 PM to 8 PM This open mic has welcomed newcomers Kenny Chesney, David Wilcox, Dierks Bentley and Garth Brooks as they dropped by in their quest for success, and songwriters including Tim Johnson, Dave Turnbull. Chuck Cannon and Bret Jones who have grown from playing a couple songs for free to writing hit singles.  It's always an entertaining show as songwriters from all over the world gather to take their chance on the famous Bluebird Cafe stage. You never know just what you'll hear, but you can be sure you'll hear it all.
Open Mic Sign-up Procedure:  Sign-up is by phone and will start at 11 am each Monday for the show that night. The number to call is 615-943-8168. You will not be able to leave a message; you need to keep trying 'til you get through to someone who will put you on the list. There are limited spots and the list will fill up quickly.
All writers who play that night will have a reserved seat and can reserve one additional seat if needed. They must be at the club and have checked in with the host by 5:15 pm.
ADDITIONAL GUIDELINES: Songwriters of all genres are welcome. Each participating writer will get the chance to play 1-2 original songs, solo or accompanied by no more than two others on stage. Drums and backing tracks are not allowed. There is a full sized house Kawai digital piano that is available to use and a Taylor guitar with a pick-up, strap, capo and tuner..
SUNDAY WRITES NIGHT This is the longest running writers' night in Nashville and one of the best attended. The show consists of ten to twelve writers who play three songs each and it ends with a set by a writer who has enjoyed commercial success. There is no pay for the show but writers are welcome to sell CD's.
AUDITION PROCEDURE To play on a Sunday writers night you must first pass one of the live auditions. The only exception to the audition rule is made for touring artists who are performing professionally. They may, instead of the audition, send a press kit marked "writers nights" to The Bluebird Cafe, 4104 Hillsboro Rd., Nashville TN 37215 or email an on-line press kit to earlyshowbooking@bluebirdcafe.com . The auditions are held four times a year and are open only to writers who live within 100 miles of Nashville or members of a chapter of the Nashville Songwriters Association. They take place on a Sunday morning and each writer plays one minute of one song. Writers must register online in advance for the audition and only 65 writers are registered for each one.
To receive an email notice and complete instructions whenever it's time to register for an audition, join the mailing list and check the box for auditions.
EARLY SHOWS – Tues – Friday, 6:00 to 7:45 PM These shows usually consist of three writers taking turns trading songs for 2 hours. Generally the rounds are put together by one writer who invites the others. There is a $5 cover that pays the soundman and is then divided between the performers.
BOOKING PROCEDURE To be considered for an early round, writers must begin by passing the audition for a Sunday writers night. Once they have played four Sundays they can ask to be considered for an early round. For the most part, writers must be able to assemble a three or four person round that will provide great music and will help fill the house. 
SUNDAY BAND SPOTLIGHT The only opening at The Bluebird for a full band that does not already have a large Nashville following is the Sunday Spotlight Show at 6:00 PM each week. Bands of up to six pieces play a one hour set.
BOOKING PROCEDURE Writers who would like to play on the spotlight show with their band must begin by passing the audition and playing four Sunday Writers Nights.
LATE SHOWS Mon thru Sat These shows are booked by the manager of the club, Erika Wollam-Nichols, erika@bluebirdcafe.com and they are reserved for multi-hit songwriters and touring acts with a large following.
to receive notices about workshops and Bluebird auditions.