If you are a songwriter who wants to be heard, try out new material or meet people in the industry, writers nights and open mics can be a great place to start. It is not likely there will be publishers, producers and record labels there – they are bombarded with songwriters and singers trying to get to them so they don't usually go out looking for new talent. But if you're good, people will notice and it may lead to introductions. Plus building relationships with other songwriters in the community is an important ingredient of any successful career.
You may be wondering what the difference is between a writers night and an open mic. On this page the term "open mic" to refers to a show you do not have to audition for and that anyone can play. Some of them require advanced sign-up; for others you simply show up that night at the sign-up time. The term "writers night" refers to shows that have a line-up of multiple writers who are scheduled in advance.
When approaching hosts about booking it is important to remember that the clubs are in the business of selling food and drinks, and they rely on the performers to draw an audience. Be prepared that you may have to play open mics or just visit the writers nights and get to know some people before you get booked to play.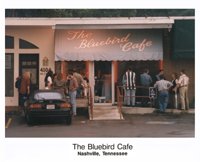 Bluebird Cafe
See the Bluebird page of this website for detailed information about the club.
Monday 6 to 9 PM Open Mic – NEW SIGN-UP PROCEDURE BEGINNING JUNE 1ST – Sign up is now done by phone and begins at 11 am on the Monday you want to play.  The number is 615-943-8168.
Sundays 8 PM Writers Night – scheduled by audition only
Tues through Sat – Early shows feature some of the best up-and-coming writers.
Late shows feature hit writers and established bands.
Blue Bar and Rack Room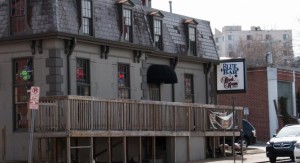 1911 Broadway 37203, (615) 327-8001
Tuesdays at 7:00 – Tuned In Tuesdays with Barbara at Blue Bar – Long-time Nashville host Barbara Cloyd assembles rounds of some of Nashville's best songwriters and writer/artists.  There is an open mic that starts around 10 pm. Be there by 9:00 to sign up. Click here to see the schedule.
Wednesdays at 7:30 – Terri Jo Box has been hosting great shows at various venues for many years and she calls her current one Midtown Freakshow. She knows lots of hit writers and finds the best newcomers. Stop by to inquire about booking with her.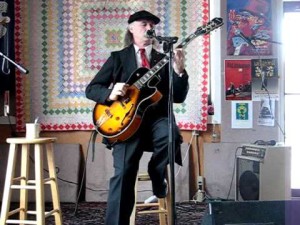 Ri'chards Cafe
4420 Whites Creek Pike 299-9590
It's only 12 minutes from downtown, but it's like a different world at this Louisiana style cafe in the tiny town of White's Creek just north of Nashville. Richard's Cafe' is a popular original music venue featuring the best up-and-coming songwriters and artists. The patrons are a fun upscale family crowd who come to dine, talk, listen and even tip and buy CD's. Not to mention, feast on the fine Cajun cuisine. If you're lucky, you'll get a chance to hear owner Richard Trest, a fine songwriter himself.
Wednesday through Friday – 5:30 to 6:30 Open Mic
Wednesday through Saturday 6:30 to 8:30  – songwriter rounds and featured artists
Sunday – 12:30 to 2:30 pm – songwriter rounds and featured artists
For booking inquiries email booking@richardscafe.com.
Commodore Sports Bar at the Holiday Inn, Vanderbilt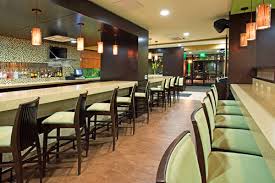 2613 West End Ave, 615-327-4707 
Sunday, Monday, Wednesdays and Thursdays,  6:00 PM – hosted by Debi Champion  with rounds and featured writers. If you are new to Nashville and want to start meeting people and learning the ropes, this is one of the best places to do that. Debi has hosted nights for many years in Nashville and does a great job of booking hit writers and gathering a regular following of talented writers who are serious about their careers. Be there by 9:00 PM to play at the late-night open mic, which serves as an audition for future bookings. Check out her website for the complete line-up.
Fridays and Saturdays 6:30 PM – hosted by Rick Stewart with rounds and featured writers. Visit Rick at the club on their nights to inquire about booking a night with him. Check online for the schedule.
Douglas Corner 
2106 8th Ave, (615) 298-1688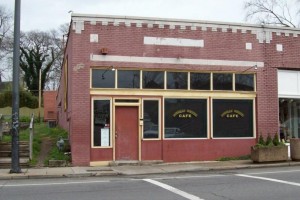 Tuesdays 8 pm to close. To play this long-running Open Mic hosted by Rick Campbell writers must call 292-2530 between 2:00 and 6:00 PM on the day they want to play. They perform in the order in which the messages are received. Writers play two songs each in rounds of four. Those who show up without calling will play late. The show continues until everyone has played.
Soulshine Pizza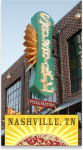 1907 Division St, 37203,  (615) 401-9856

Tuesdays, 6 to 9 pm –  This venue is a big supporter of original music and their Tuesday Songshine Songwriters Night uses an in-the-round format.  Contact Aubrey Wollett about booking, songwriters.soulshinepizza@gmail.com.
Thursdays 6 to 9 pm – held every week, the Southpaw Supper club is a mixture of Americana, Rock, and Blues. Come to the show to ask host Max Leaphart about booking.
Millenium Maxwell House
2025 Rosa L Parks Blvd, Nashville, TN 3722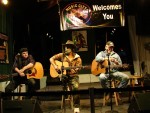 Host Lee Rasconne has been delighting Nashville for many years with his great line-up of writers and humorous hosting style. Stop by to ask him about booking or click the link for his contact info.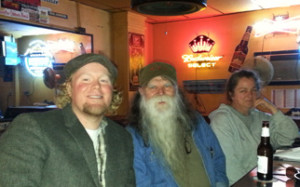 Bobby's Idle Hour
1028 16th Ave. South Nashville, (615) 726-0446
Thursdays, 7 pm – a classic dive right on Music Row, now non-smoking. The shows have songwriter rounds and a featured  performer each night. The easiest way to book is to drop by on a Thursday and talk to owner/host Lizard Thom Case about a future date. Or you can check the calendar for open slots and email lizardvillemusic@aol.com with the date and time you are interested in.