NEXT WORKSHOP WILL BE MARCH 2 – 4
APPLY BY  JAN 22
Publishers attending: Chris Oglesby (BMG), Keithan Melton (Hori Pro), Woody Bomar (Green Hills Music), Janie West (Janie West Music)  plus two more TBA
Purpose     Schedule     How to apply    Auditing      Details       Frequently asked questions      Workshop videos          Future workshop dates        Comments from past participants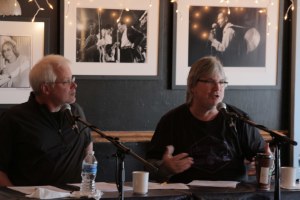 This workshop is a 3-day crash course in what it takes to write for the commercial Nashville market. Sixteen applicants are chosen to play one song each day for two publishers who give feedback on the craft and commercial potential of the writing. You do not have to perform the songs live; you can play a recording. The publishers are not paid to attend; they come hoping to find new talent. Writers not selected to play songs can attend as auditors to network and learn.
Participants have ended up with publishing deals, single-song contracts, co-writes with staff writers and on-going publisher relationships. It's also a great place to find co-writers. Past participants include Dustin Lynch, Jon Nite, Joe Leathers, Skip Black, Kelleigh Bannen and Seth Alley.
THURSDAY  Mar 2
8:30 to 11:30 am – study hit songs to see what makes them hits
1 to 4 pm – feedback session with two publishers
6:30 to 10 pm – open mic for all attendees at Ri'chard's Café
FRIDAY Mar 3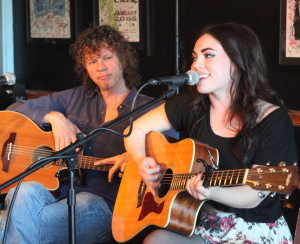 8:30 to noon – feedback session with two publishers
1:30 to 4 pm – performance and Q&A with pro writers
4:00 pm – Unscheduled time
SATURDAY Mar 4
8:30 to 1 – feedback session with two publishers
1 to 4 pm – auditors get feedback from a pro-writer and the group
5 pm to ? – wrap party
The deadline to apply is  Sun, Jan 22. All applicants must fill out the online application form and send a minimum of three songs with lyrics. You can send up to 10 songs for consideration. The fee to apply with 3 songs is $25  and for each additional song the fee is $5.   Applicants who would like feedback on the songs they submit instead of just a "yes" or "no" can request it for an additional $10 per song. You can apply online by paying the application fee through Paypal and uploading mp3s,  or you can send a CD and a check by mail.   
All applications that come in by the Jan 22 deadline will be carefully reviewed and  sixteen will be chosen based on how well crafted, original and relevant to the current market their writing is. Everyone will be notified whether or not they were selected to play for the publishers no later than Fri Jan 27.  If you would like to receive emails about future workshops whenever applications begin, you can join the mailing list
CLICK HERE FOR THE APPLICATION FORM AND INSTRUCTIONS
1. Q. Can I submit co-written songs?
A. Yes, but please identify your co-writers.
2. Q. What kind of demos should I submit?
A. You can send anything from a fully-produced studio demo to a rough work tape. Submit your best songs, regardless of the quality of the demo. Songs will be judged on the the writing, NOT on the demo.
3. Q. What if I can't perform my songs??
A. Then you can play recordings of your songs at the workshop. Writers who can perform may also play demos if they prefer.
4. Q. What if I don't write Country songs?
A. The publishers who attend are looking for great writers who WANT to write for the commercial Country market, not necessarily ones who already do. If they see great potential they may want to give writers an open door and help them develop. You are welcome to submit songs in any genre when you apply. However, if you are not interested in writing Country songs, this is not the workshop for you.
5. Q. Can co-writers enter as a team?
A. Yes – they are then asked to pay one fee for attending ($345) plus one fee for auditing ($225).
6. Q. If I am selected, do the songs I present to the publishers have to be the same songs I sent in to apply?
A. If you want to present different songs, you have to get them approved before the workshop.
7. Q. If I can't attend the workshop can I still submit my songs to be presented to the publishers?
A. No – the publishers aren't really looking for songs to pitch – they are looking for songwriters they may want to develop relationships with. They want to meet you as well as hear your songs.
Writers who are not among the sixteen selected are welcome to attend as auditors for a reduced fee. Auditors participate fully in every way other than presenting songs. Listening to professionals analyze other people's songs is a great way to learn about the craft of commercial songwriting without having to hear your own songs picked apart.  Auditors also enjoy the benefit of meeting other writers who are serious about their craft and it's a great way to find co-writers. Writers who are only interested in auditing do not need to apply. 
Cost – $345 (scholarships available – click to read scholarship policy) Payment will be expected within 3 weeks of acceptance. Refunds will only be given if the spot can be filled by a qualified writer.
Cost to audit – $225
Location – Bluebird Café, Nashville TN
Lodging – Participants secure their own lodging (click for suggestions)
Dates for 2017 are not yet determined.  Join the mailing list to find out as soon as they are scheduled.
Click here to read comments from past participants.
PUBLISHERS TALK ABOUT WHY THEY COME TO THE WORKSHOPS
RYAN BEUSCHEL TALKS ABOUT UNDERSTANDING FEEDBACK ON YOUR SONGS